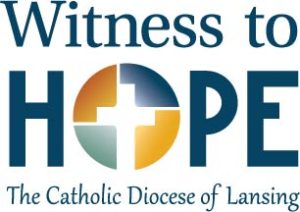 Welcome to the Witness to Hope site. This campaign is an opportunity to live our Catholic Identity. When we give, we do it for a variety of reasons. These include an opportunity to live our faith, to give back, to make a local impact and to show that we are free of material items and many more. Here are three things you should consider when praying about a gift to the campaign:
Gratitude: Be motivated by gratitude to God, making a generous return to the Lord for all the blessings in your life.
Joy: Give freely rather than from a sense of obligation, knowing that God loves a cheerful giver and that true generosity leads to joy.
Love: Allow Jesus to fill your heart with his spirit of trust and selfless love for all those served by the Church's ministry and mission.
Prayer and participation will enable us to reach our goal for this campaign! I believe that with your help we can reach our goal. I pray that you all take time to discern your best sacrifice. We cannot give the same amount, but we can all make our best sacrifice!
For more information about Witness to Hope visit www.witnesstohope.net.
Preliminary Case Statement
Saint Joseph Catholic Church has been a center of our Catholic life and heritage in Saint Johns. Through the efforts of its many pastors and its faith-filled parishioners, our parish has continued to be the presence of Christ to our community.
Under the leadership of Fr. Michael Williams, our parish has over 1300 families. We have many ministry programs, vibrant liturgies and superb educational programs for young and old. It is a parish which is growing in faith and formation.
Many of our parish facilities are years old. While they have been properly maintained over the years, there is a present need to renew and restore and expand some of the buildings. We desire to make needed improvements to our school which includes replacing the school roof and the north wing school windows. The roof has been patched temporarily and the north wing windows are the original windows from 1963. We also have many interior church needs which comprise of upgrading the sound system, refurbishing the organ and repainting the interior. We would also like to resurface the parking lot due to the cracks and uneven areas.
The cost of our projects is as follows:
School Roof Replacement

$161,400

Church Interior Needs

$133,721

Parking Lots

$46,877

School Windows-North Wing

$96,345
Total Parish Share:$301,938
Total Goal: $862,680
As we look to the future as a parish, so also is the Diocese of Lansing. Our larger faith family has embarked on its first ever-diocesan wide capital campaign called Witness to Hope. Witness to Hope seeks to raise $65 million to support the many ministries of our the larger Church, including support for our seminarians and retired clergy, youth and young adults, Catholic education, evangelization and funds for social ministry. A complete overview of the Witness to Hope case is attached. Each parish of the diocese will participate in this campaign.
Our Participation
Through our participation in Witness to Hope our parish will receive a minimum of $301,938 of our $862,680 goal. These funds will be used to make needed improvements to our school, church and parking lot. From 100% to 120% our parish will receive 65% of the funds raised. Once our parish reaches 120% of the goal we will receive 100% of what is raised. The balance would support the wider Church efforts outlined in the Witness to Hope Case statement. The difference for our projects would be made up through funds the parish currently has available. The Diocese would pay for all of the cost of the campaign including printing; postage, pledge redemption, and other related campaign costs. There will be no solicitation for the DSA in 2017.
Our parish leadership believes that by conducting a Capital Campaign we will be able to meet our own important needs, and we will, as part of the Universal Church play an important role in fostering a better and stronger future for the Catholic faith in South Central Michigan.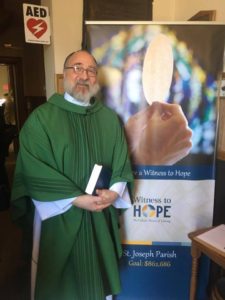 Thank you to all those that have made a gift!