First Reconciliation
From the beginning we teach the children that they will be encountering a loving and forgiving God in the sacrament of Reconciliation. The children learn the "Act of Contrition" prayer and the flow of the sacrament in the confessional, however, the emphasis is on sorrow and forgiveness. First Reconciliation is received before the sacrament of First Communion and is a part of the curriculum taught in the second grade during Religious Formation.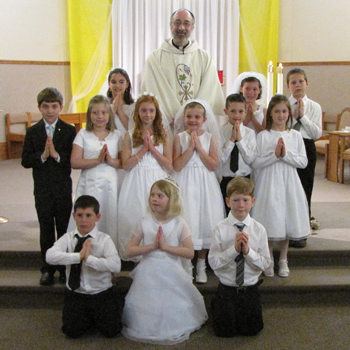 First Communion
It is through the sacrament of Holy Communion that we receive the grace and strength to love our Lord with all our hearts and our neighbor as ourselves. Children learn about the Last Supper when Jesus took bread, gave thanks and broke it saying "This is my Body…this is my blood. It is poured out for you for the forgiveness of sins… do this in memory of me."
Based on Luke 22:17-20
They learn that receiving the Eucharist helps us to bring Jesus to others by caring for the sick, by providing food, shelter, and clothing to those who are in need, comforting the bereaved, and visiting the imprisoned. In the Eucharist, Jesus gives us himself so we can become more like him.
Children receive this sacrament in the second grade after the sacrament of Reconciliation. For more information please email
dre.stjoseph@gmail.com
or call the Religious Formation office at (989) 224-8537.
Please click below for the 2022/2023 First Reconciliation/First Communion Calendar
Please click below for Baptismal Information Form to fill out.